3M 501+ High-Temperature Masking Tape
$6.90
| | | |
| --- | --- | --- |
| 3/4 inch | 12 Rolls/Sleeve | 48 Rolls /Case |
| 1    inch |  9   Rolls/Sleeve | 36 Rolls /Case |
| 1.5 inch | 6    Rolls/Sleeve | 24 Rolls /Case |
3M 501+ Masking Tape Details

Details
Removes cleanly in one piece with no adhesive residue, minimizing unwanted tearing
Withstands surface temperatures up to 300°F/150°C for 30 minutes
Holds securely through multiple or extended process cycles
Low unwind improves handling in wide-width applications
Resists paint bleed-through to help create sharp paint lines
Tan backing tears easily and resists slivering
Remains in place around corners, over contours and irregular surfaces
We designed 3M™ Specialty High Temperature Masking Tape 501+ to deliver clean paint lines where surface temperatures can reach up to 300°F/150°C. This tan crepe paper tape is ideal for critical paint masking applications in specialty vehicle, automotive and industrial markets where strong holding and high-temperature performance is required.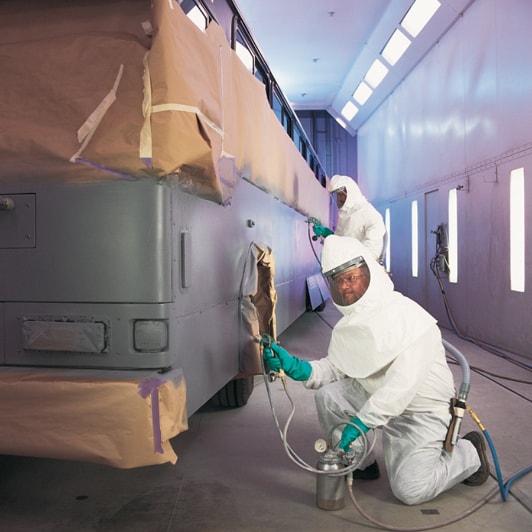 Ideal for all high temperature paint baking, fascia painting and pipe coating applications
Ideal for Industrial Painting
Using our proprietary adhesive, the tape sticks instantly to most surfaces, including metal, rubber and glass, as well as plastic while removing cleanly in one piece. Our high-strength crepe-paper backing conforms to irregular surfaces, resists bleed through from most industrial paint systems, improves visibility during the paint masking process, and helps you achieve clean paint lines.
3M™ Specialty High Temperature Masking Tape 501+ is an ideal tape for industrial painting, including two-tone color applications on trucks, buses, trailers, trains, fire trucks, ambulances and airplanes. It is easy to tear, which aids in handling, yet strong enough to resist slivering, providing "user friendly," one piece removal. The tape is conformable for easy masking around corners, over contours and irregular surfaces.
Recommended Applications
High-temperature paint baking
Fascia painting
Pipe coating
You might also like